Just incase you missed it. All GCCS schools and district offices will be closed tomorrow, February 3rd due to the weather.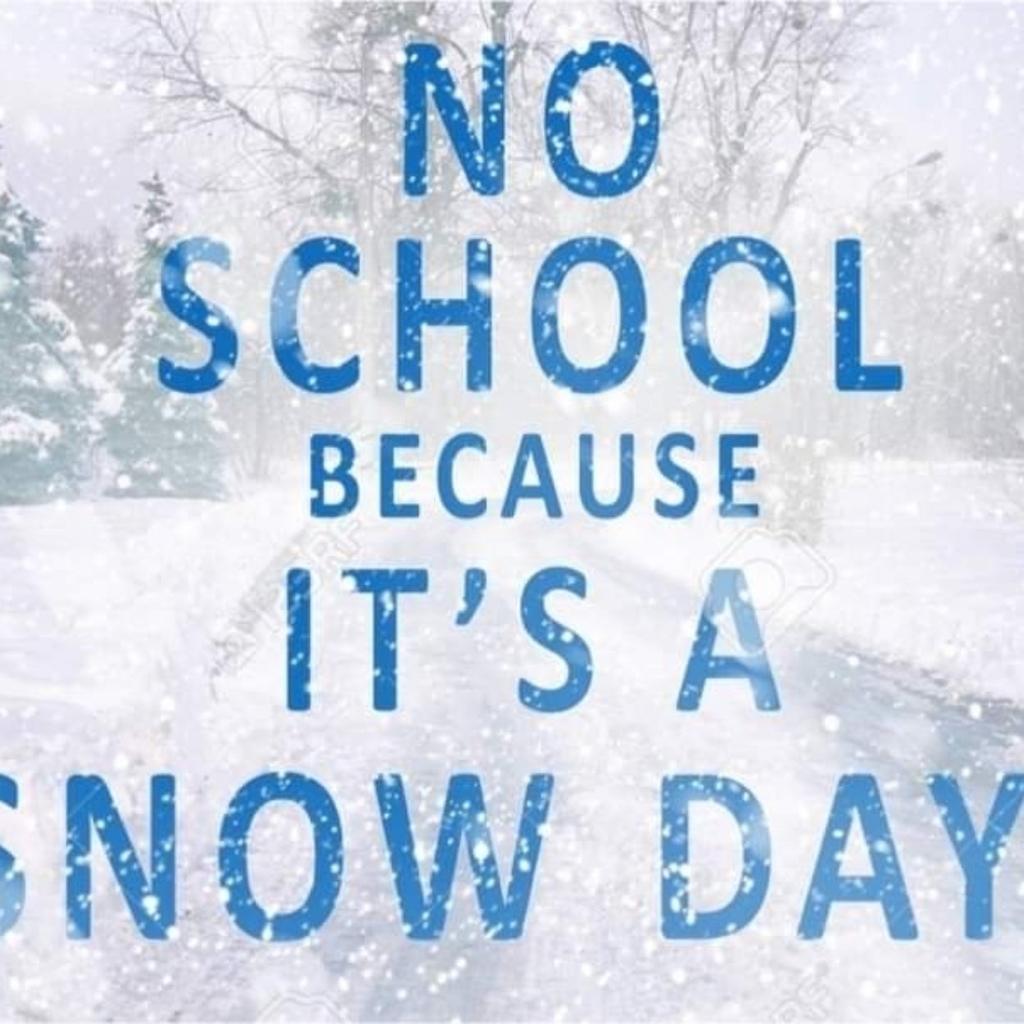 GCCS schools are closed tomorrow, February 3, 2022. Stay safe out there!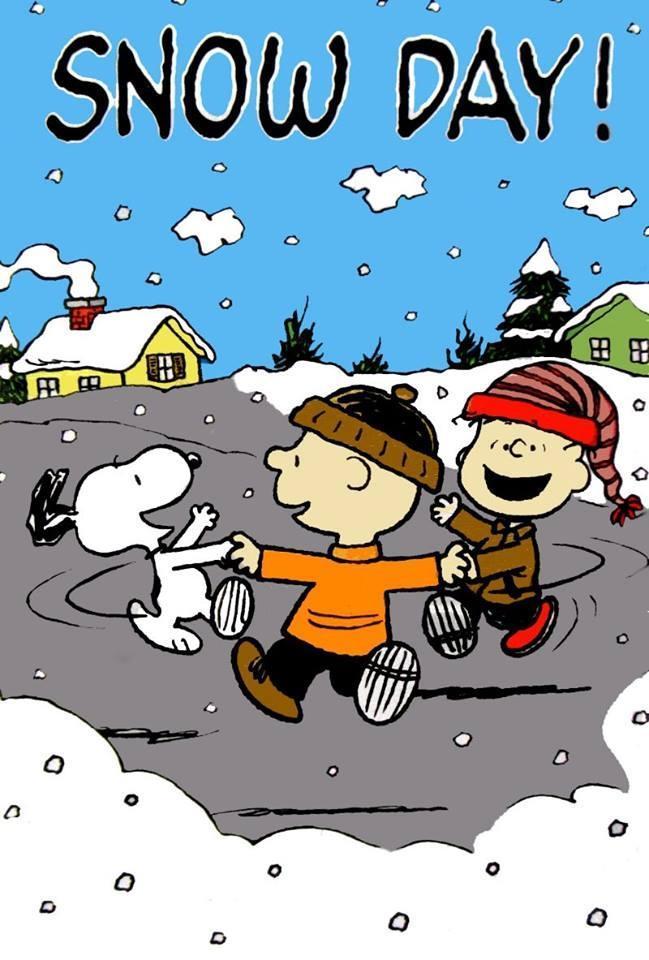 ATTENTION GCCS COMMUNITY: Please review the attached flyer from Engage New Mexico regarding the new Quarantine Response Hotline. It's a good way for your student to get help with tech support and homework help during their time away from school.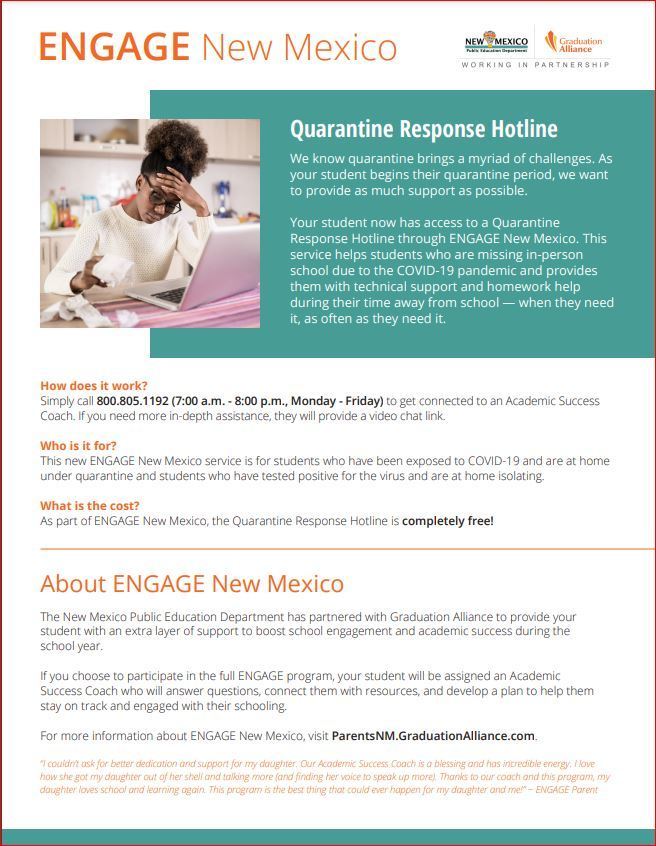 Student Quarantine Hotline The PED today launched a Quarantine Response Hotline to provide on-demand technical support and homework help to students who are missing school due to the COVID-19 pandemic. The hotline, 800-805-1192, is available to quarantined and self-isolating K-12 students in districts and charter schools participating in ENGAGE New Mexico, a PED program created early in the pandemic to help keep students engaged in learning. Eligible students can call the hotline between 7 a.m. and 8 p.m. Monday through Friday to get connected to an academic success coach provided by the Graduation Alliance, the Public Education Department's ENGAGE New Mexico partner. Video chats are also available to students needing more in-depth assistance, and callers can choose to receive help in English or Spanish. Students who are missing school due to the COVID-19 pandemic do not have to be referred to the ENGAGE New Mexico program for ongoing support to get help from the hotline, and there is no cost to students, districts, or charter schools.

Mesa View students are returning to school (in person) tomorrow, Monday, January 30th. Please bring your Chromebooks to school with you.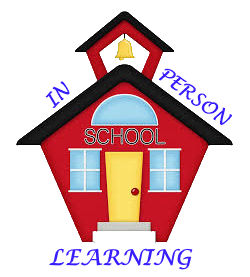 Attention GCCS Community, please see the picture below for information on the next Regular School Board meeting schedule.

The next School Board meeting is Scheduled for Monday, January 31 at 5:30 p.m. To access the meeting, go to gccs.k12.nm.us and click on the meetings link.

ATTENTION GCCS COMMUNITY: Please take a look at the following important information regarding opportunities for you and your children.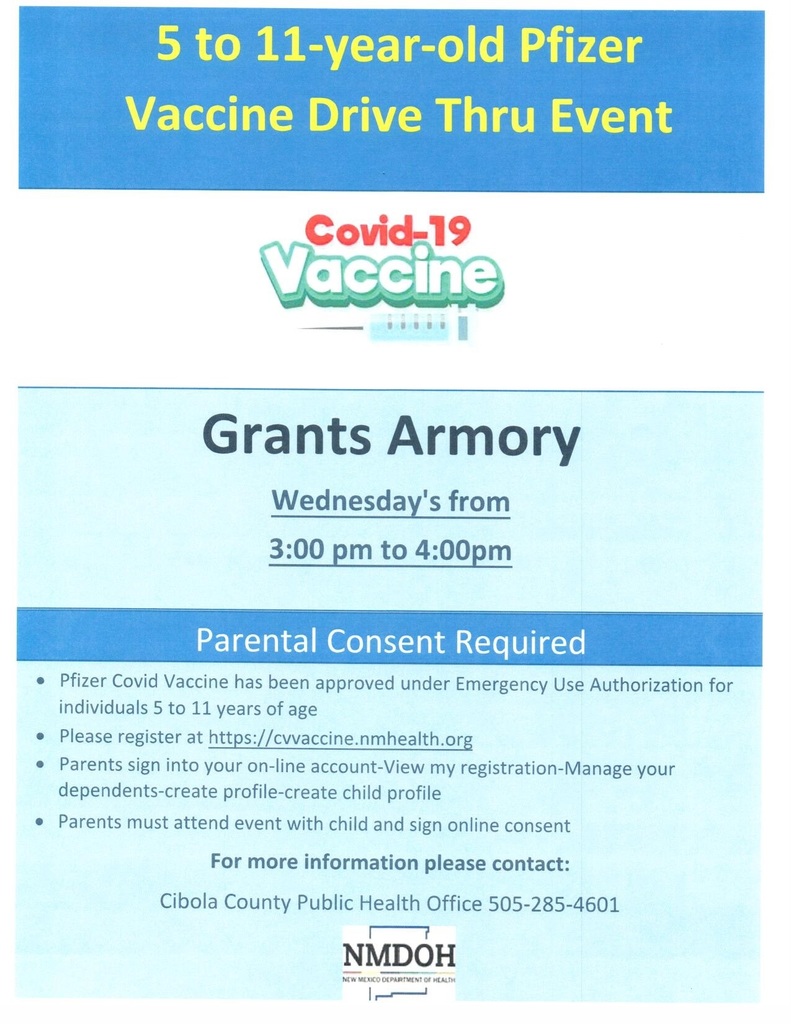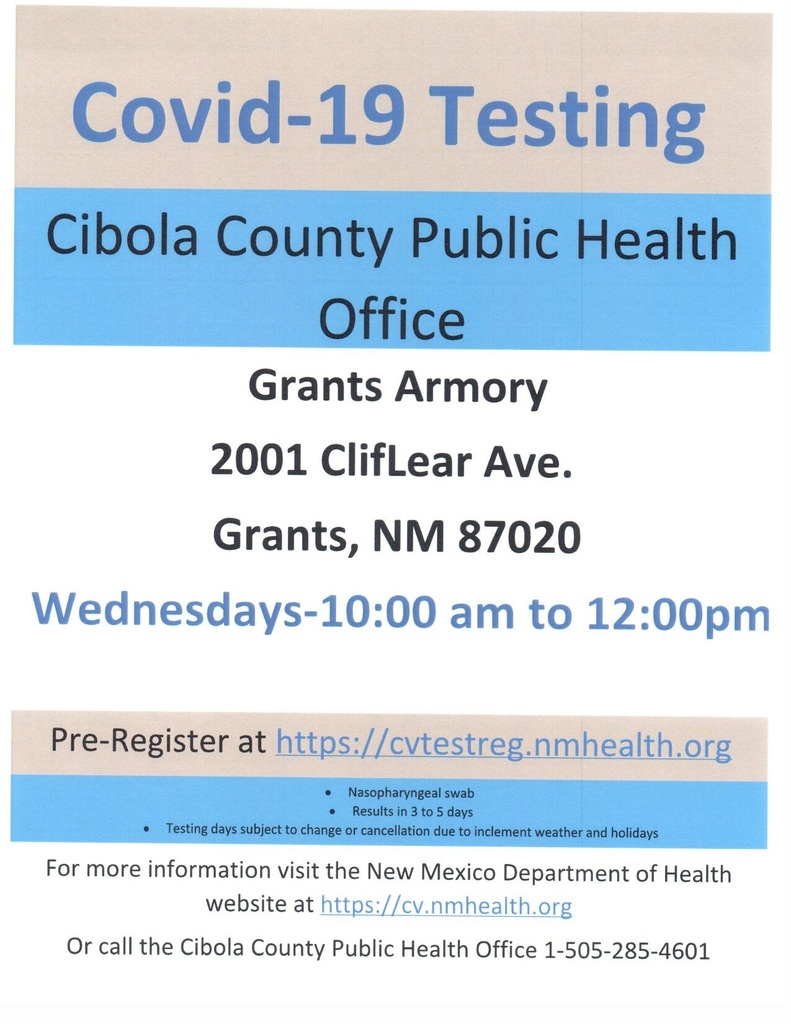 Please read the following letter from Superintendent Perez. Mesa View students will remain virtual throughout this week. We will return in person on Monday, January 31st. Special Education students can continue to get services on campus. Grab and Go lunches may be picked up at the school from 11:00-12:30.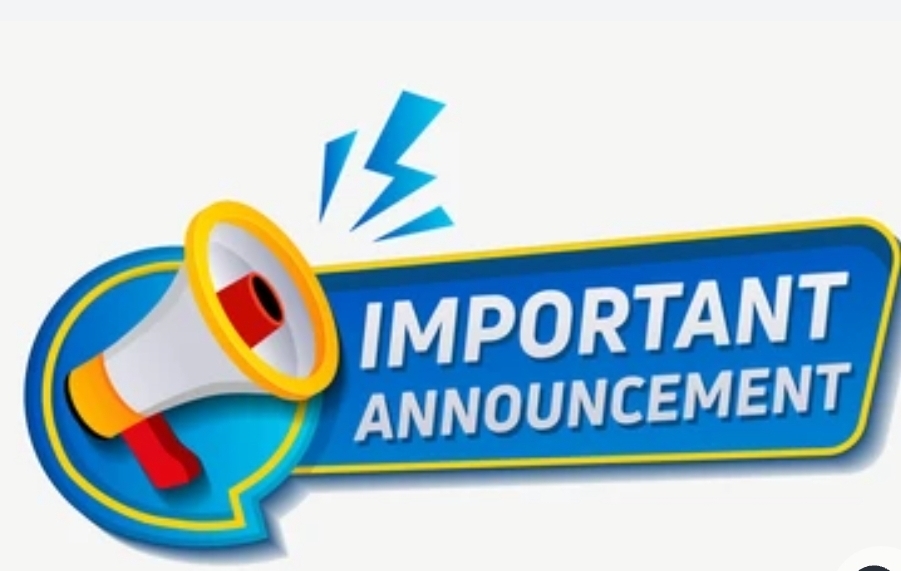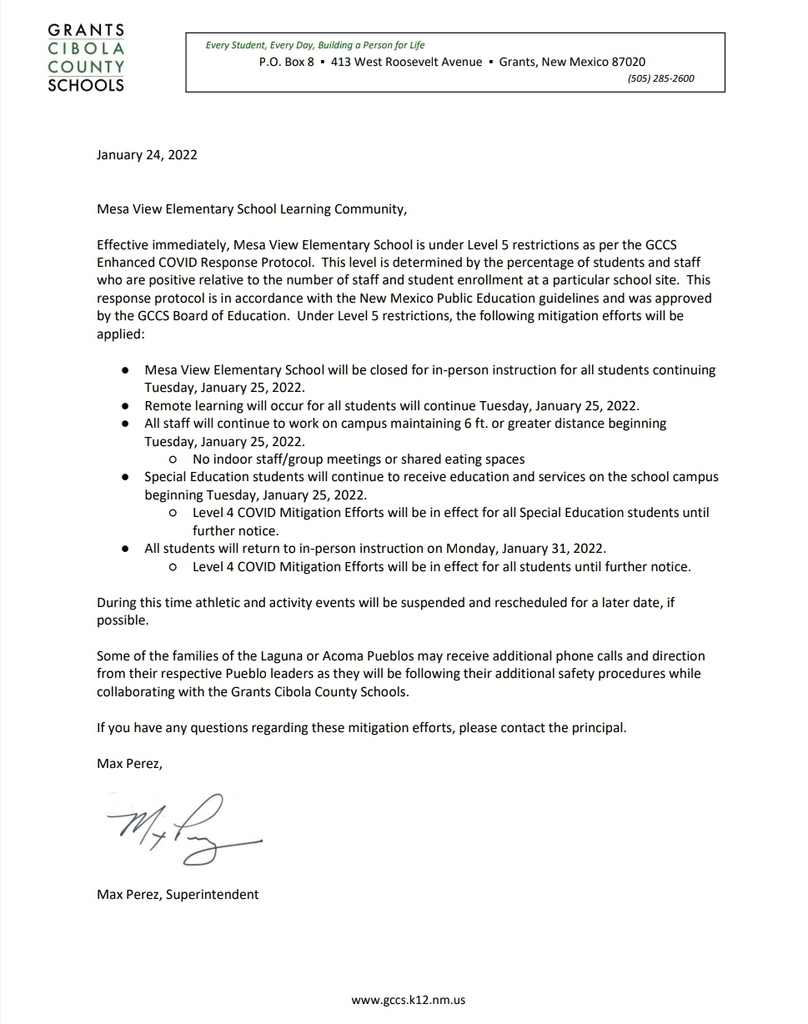 ❗❗ REMINDER ❗❗ Lunches can be picked up in the parent drop off/pick up lane at Mesa View Elementary from 11:00am -12:30pm.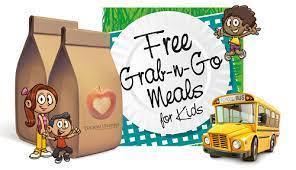 Reminder: We are VIRTUAL Monday (1/24) and Tuesday (1/25) of this week. Students will return on Wednesday (1/26). Teachers should have contacted you to pick up either packets or Chromebooks. Grab and Go lunches will still be served 11:00 to 12:30.

Good morning! We have just been notified that we are at Level 4 which has us going remote for only Monday and Tuesday. We move to level 3 on Wednesday when students can return to in person. Teachers will be in contact with parents to let them know when they can pick up their chromebooks and/or packets on Monday. Thanks for your patience and consideration as we navigate through this. Happy Weekend! LOL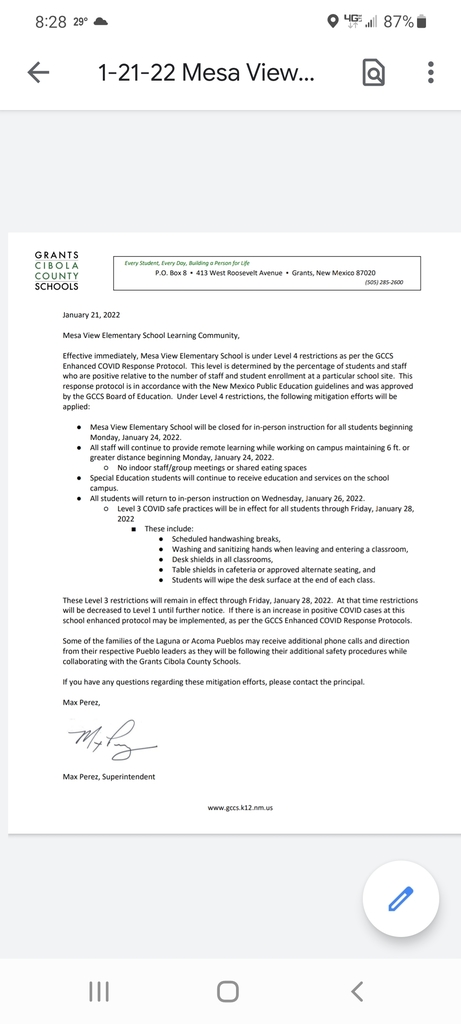 ATTENTION GCCS Community - Information from Cibola General Hospital Starting 01/21/22 until further notice, due to supply chain issues Cibola General Hospital and Cibola Family Health Center will no longer be providing surveillance testing (exposure), back to work, or travel COVID testing at this time. NMDOH has agreed to increase surveillance (exposure) testing over the next two weeks: January 25 1pm-3pm January 26 10am-noon February 1 1pm-3pm February 2 10 am-noon Individuals can sign up at: cvtestreg.nmhealth.org Free At Home Testing Kits Available at: special.usps.com/testkits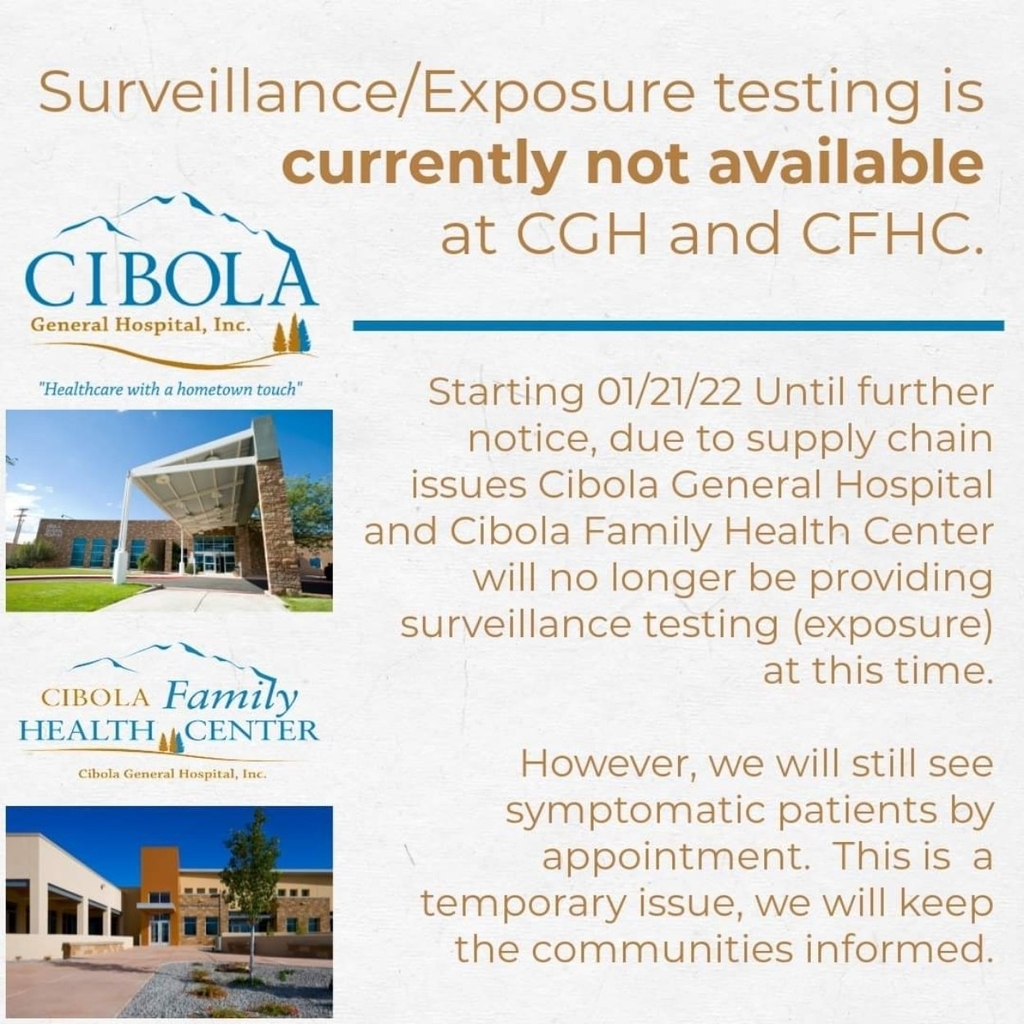 We are so proud of our Mesa View Viking Cheerleaders!! They were able to perform Friday in San Rafael and they were Awesome!! I hope that they will be able to perform again soon but until then I know that they will continue to have Spirit at Mesa View!! Go Vikings!! 📣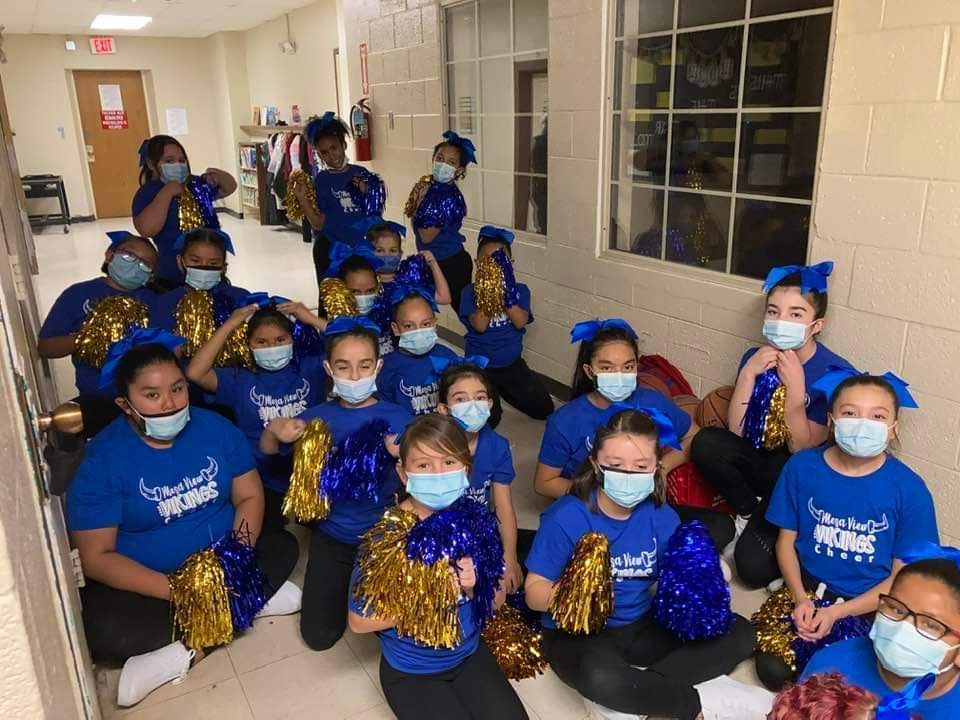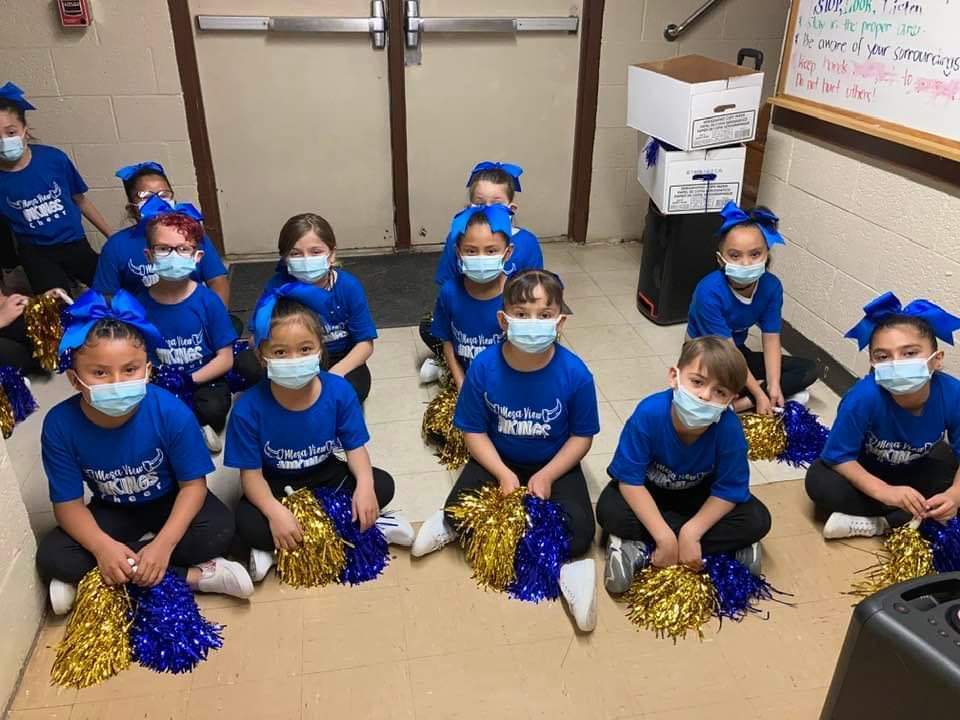 Attention Cheer Parents! Our cheer performance at Los Alamitos on Thursday has been CANCELLED.

Attention Cheer Parents! Our cheer performance at GHS today has been CANCELLED. We WILL perform tomorrow (1-14-22) at San Rafael Elementary at 6:00pm.

Just a reminder to everyone, all of Grants Cibola County Schools and Departments will be closed on January 17th in observation of Martin Luther King Jr Day.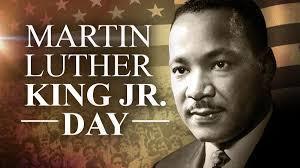 Mrs. Gann and Mrs. Ratliff's classes began the semester with some team building activities. What a great way to ease back into the swing of things and sharpen those collaboration skills!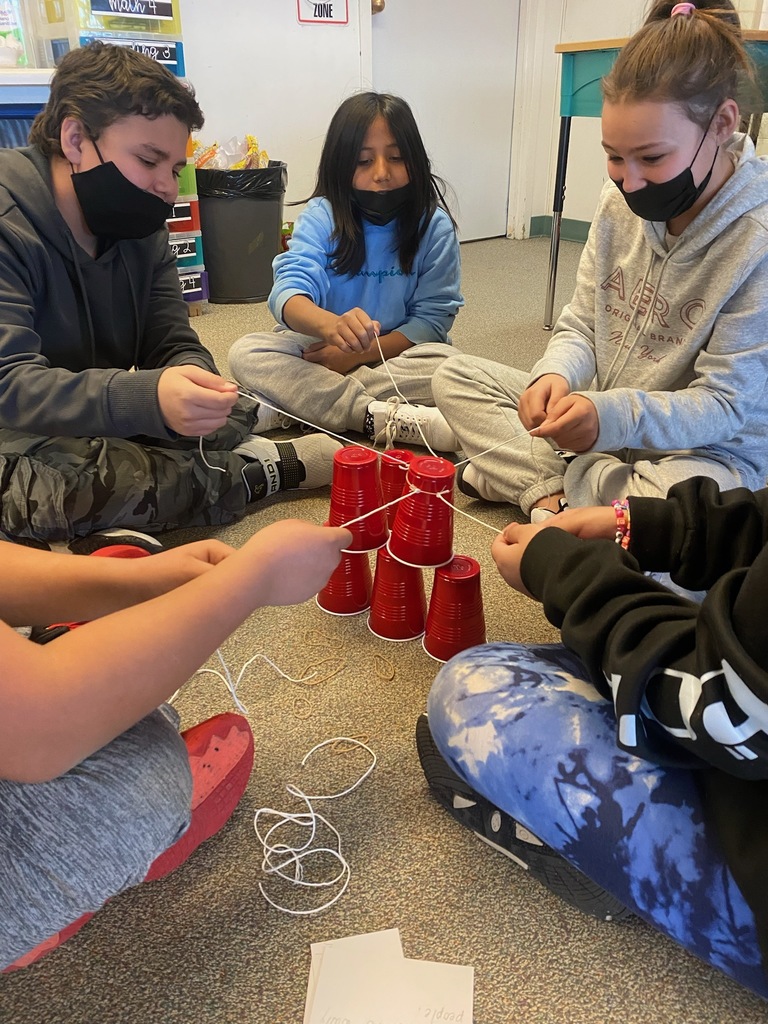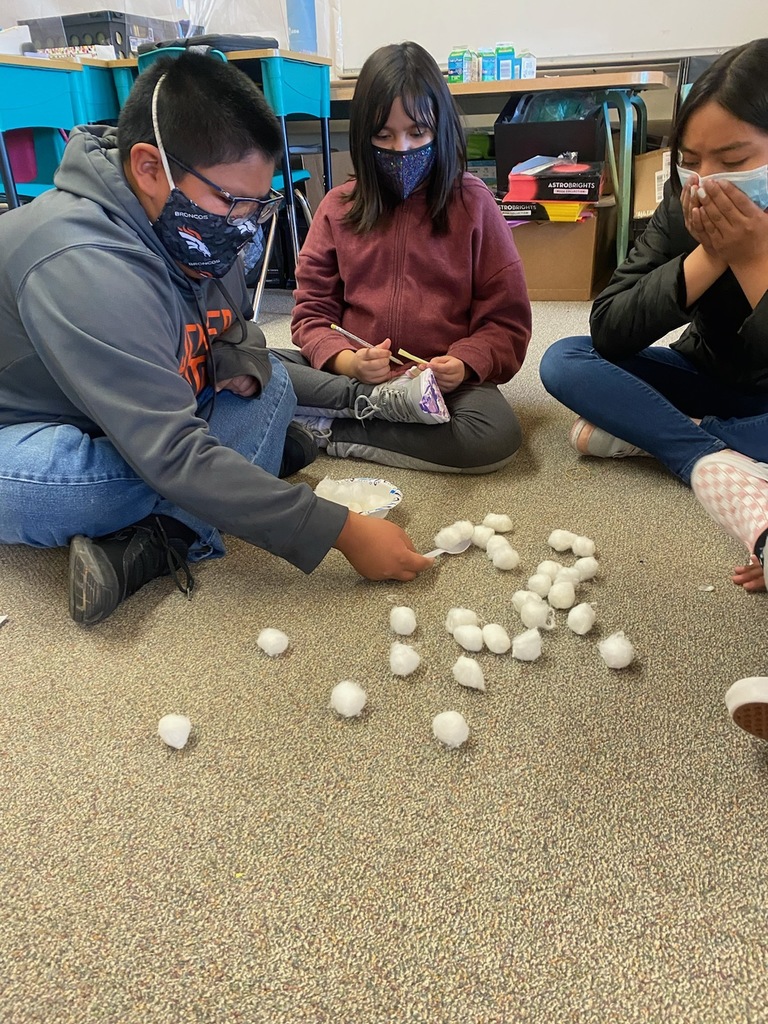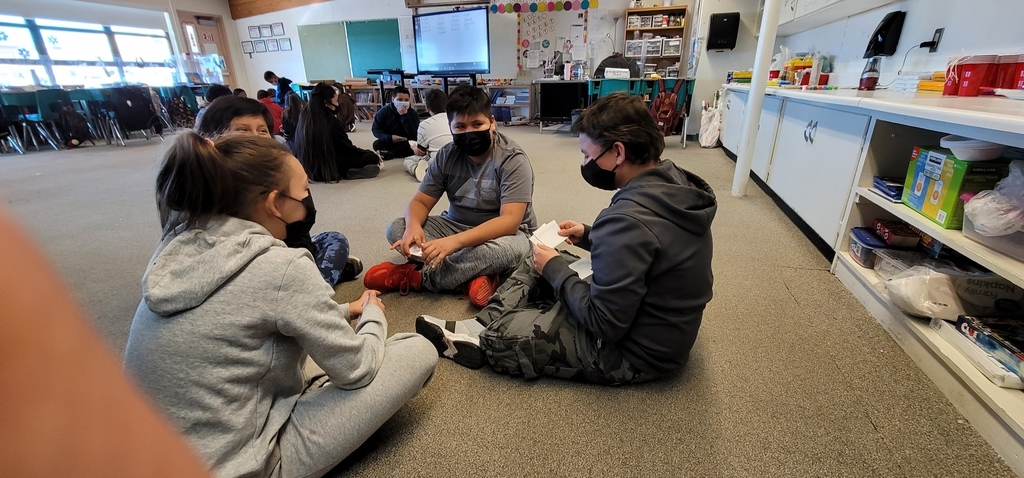 To all of the GCCS Staff that are returning to work today! WELCOME BACK! We hope you had a very relaxing break and are recharged to attack the new year!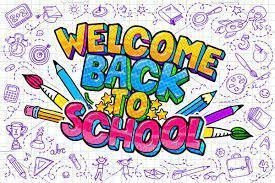 Happy New Year! We just want to remind everyone that the students return to school on Wednesday, January 5th.